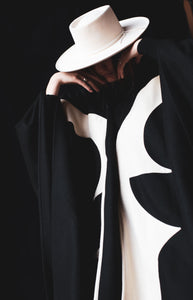 Our Story
Maison Le Fawnhawk is a cross media creative studio led by conceptual artist and Soulful Surreal Minimalist Petecia Le Fawnhawk in Taos, New Mexico. 
Petecia Le Fawnhawk is a modern surrealist whose body of work is a meditation on the nature of form juxtaposed against minimal desert landscapes. Through this deep, slow intentional expression, she strips away the unnecessary in an attempt to reveal truths in the mysterious and magisterial.
During the pandemic, Petecia turned her attention to developing a high end lifestyle collection as an extension of her art as modernist "living totems" set against a vast and otherworldly desert dreamscape with soaring monolithic sculptures that dominate the ethereal mystique of an inward journey.
At MAISON LE FAWNHAWK we hope to create dynamic real world and metaversal experiences that will make meaning and inspire greatness.
YOUR SPIRIT IS MONUMENTAL